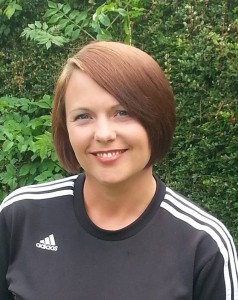 Katie Campbell – BSc (Hons) MSTA MFHT
I hold the following qualifications and memberships:
• Sports Therapy Honours Degree (University of Bath)
• Sport Extended Dipolma (Development, coaching & Fitness)
• Fitness Instruction Level 2
• Kinesiology Taping For Athletes
• Human Anatomy Refresher Course (Clinical Anatomy)
• Nutrition & Weight Management
• Emergency First Aid at Work (defib, spinalcare)
• Coaching Level 2 (NCFE)
• Counselling Skills Level 1
• Member of the Federation of Holistic Therapists
• Member of the Association of Sports Therapists
I as a therapist, will never act outside of my scope of practice, or treat a client without full consent. I commit to respect every client and give empathy along with skilled guidance throughout the treatment.
I am a motivated sports therapist with a strong work ethic and positive attitude, and I am highly effective in fast-paced work environments.
As a regular exerciser for many years I have experienced a number of injuries of my own, increasing my empathy with my clients and giving me a good understanding of the challenges they face during the rehabilitation process. A particular interest of mine throughout my extensive studies has been chronic pain and the effects it can have on sporting technique and overall well-being, particularly lower back pain, a subject I have written a number of case studies on. I am also currently undertaking a Craniosacral Therapy course, a therapy which supports the body's innate ability to balance, restore and heal itself. This technique has been very successful in treating such chronic ailments.
I enjoy an active lifestyle where I like to participate in exercise classes, run, cycle, I have experienced half marathons and thoroughly enjoyed the scenic Forest of Dean run. I am also interested in gait analysis and the difference bare foot running can make to injuries sustained to the lower limbs. I hope to complete the Longleat Half Marathon before training for the increasingly popular obstacle runs.
Working with both, Chippenham and Corsham Rugby Clubs have allowed me to experience both chronic and acute injuries on varied areas and players. I work using safe, effective, holistic and up to date techniques, which are backed up with recent peer reviewed research. Being a member of the Federation of Holistic Therapist's ensures that CPD is completed every year, thus maintaining and developing skills ensuring the capacity to practice is retained,  safely, effectively and legally, within my scope of practice.
Always feel free to contact me with your questions and requests and if I can help I will do my best to advise.